On Site Ceremony Areas
We have 4 beautiful locations on our property for wedding ceremonies. Call (585) 282-7733 today!
Plan on having your ceremony conveniently on our "Great Barn" property. We have 4 amazing one-of-a-kind locations for you to choose from. Having your ceremony here at the Wedding Barn you, your guests and photographer will save time, gas and the frustration of traveling around from place to place, possibly getting lost (especially out of town guests). You and your fiancé can choose from the following unique ceremonial places on our property.
Our Ceremony Location Options:
We offer our Gazebo on Chapel Hill (At no Charge with understanding that the lease is to maintain the grounds around the gazebo before the event). It has a gorgeous country background that overlooks the rolling country hills of Lima NY with Bristol Mountain off in the distance. This is the perfect setting for you and the love of your life to say your "I Do's" and create memories to last a life time.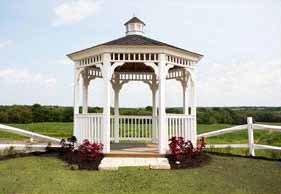 We also have a couple of ceremony locations right in our Great Barn. We have our wedding loft. Picture you and your fiancé as you walk down the matrimonial stairs onto our venue loft of three and your guests below watching as you exchange your wedding vows. This is another fabulous picture location as well as elegant and like no other place.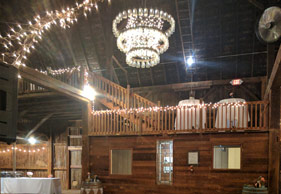 Also in our wedding barn on our first floor, we offer our wedding arches for both of you to share your wedding vows to each other. We can provide a nice wedding arch for you or you can bring in your own specially designed wedding arch. Your photographer will be able to shoot excellent photographs of this location as well. The décor features our beautiful barn woodwork and country feeling as you make your grand appearance from your own bridal suite and come down the matrimonial staircase to meet your hubby to be.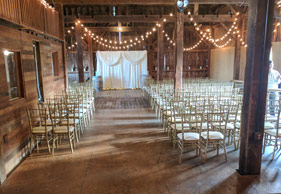 Our huge 34' x 64' balcony deck off the rear of our barn is our 4th location. We set up your wedding arbor that is decorated. There is an aisle with white chairs on each side as your guests have been seated to await seeing their favorite wedding couple appear in front of them to announce their forevers and become one. The scenic view is amazing, featuring in the background the rolling hills of Lima, NY, and Bristol Mountain off in the distance. It is simply breathtaking and another Kodak moment to last forever.